Leading Hiking and Survival Gear Retailer Tapped for its Excellent Large First Aid Kit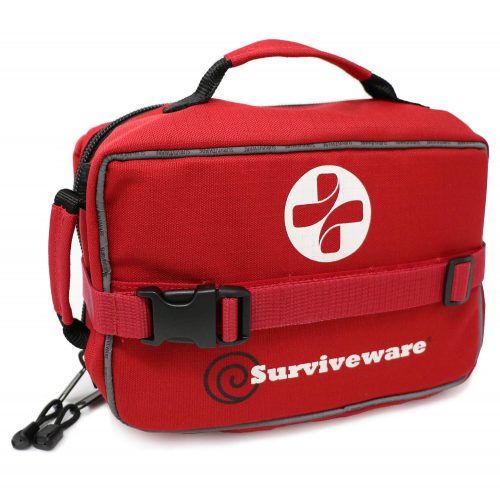 Woodbridge, United States - November 16, 2018 /MarketersMedia/ —
Truck drivers spend most of their time crisscrossing the nation by road. As there are a lot of potential hazards that they can come across on an interstate highway or just around the block, having a first aid kit is a must. There are certain events wherein a first aid kit might be needed, such as scrapes due to vehicle repairs, burns due to hot vehicle parts, and encountering road accidents where the victim might need immediate care. With this need in mind, Surviveware, a leading preparedness, and adventure gear company, released a Large First Aid Kit fit for trailer truck owners and drivers.
This newly launched kit is packed with 200 life-saving supplies that can be used during minor to critical situations. Minor scrapes and injuries are taken care of through the use of a variety of medical provisions such as gauze swabs, non-adhesive dressings, eye pads, hypoallergenic tapes, bandages, skin-cleaning wipes, and wound closure strips. In addition, other items such as splinter probes, tweezers, safety pins, cold packs, hydrogels, sting relief wipes, and fever strips are also included in this kit. Surviveware took the preparedness level up a notch and incorporated a CPR kit and an advanced first aid handbook into the pack.
The company has also extended its support and included a mini kit. This portable kit contains another set of first aid supplies that can be attached on a belt or rucksack and carried anywhere. Moreover, Surviveware has included the most notable feature of its small first aid kit into this expanded pack. Each compartment is labeled according to its content and purpose. This feature allows for easy retrieval of the supplies as well as a quick understanding of the use of each product.
Like some of Surviveware's customers who own a car, trailer truck owners quickly realize the need for an extensive first aid kit in their trucks and compartments. In this back to back featured review, an Eagle Scout Amazon customer expressed his approval on how this kit works well as a safety addition in his car: "This large Surviveware first aid kit is well equipped, organized and durable. I already own two of their small first aid kits, and they're great for backpacking and day hikes. This large offering is just as good. I appreciate the labeling on the inside pockets, which makes it easy to re-supply after use. The case is made of strong, tough fabric and should last for many years. This large first aid kit is perfect as my travel kit and is a nice addition to the trunk of my car. I'm a "Be Prepared" kinda guy as an Eagle Scout and long-term scout leader, and this offering fits my needs very well. I would definitely buy this again."
Another Amazon customer likes how this expanded first aid kit contains everything that he might need in critical situations. He said that he "bought a number of first aid kits for my boat, cars, and house over the years. The Surviveware Large First Aid Kit is the best and most comprehensive kit I've ever owned. It's very organized and has something for just about every "First Aid Event" that's likely to come up. The service from Surviveware is top notch as well. I believe this is the only kit you'll need as it is very portable. A great buy."
Get this limited 20% Amazon discount coupon today and enjoy the benefits of having a reliable first aid kit for your trailer truck emergency and preparedness needs. Get your coupon and order one today by clicking here.
Contact Info:
Name: Amanda Condry
Organization: Surviveware
Phone: 703-910-5188
Source URL: https://marketersmedia.com/trailer-truck-owners-rely-on-survivewares-large-first-aid-kit-for-their-preparedness-needs/444778
For more information, please visit https://surviveware.com/
Source: MarketersMedia
Release ID: 444778